Over St. Patrick's Day week, I ended up back in Melbourne, Australia to see friends. While I was there, my locally-based friend Anya messaged me with the link to the Good Beer Week festival at Federation Square.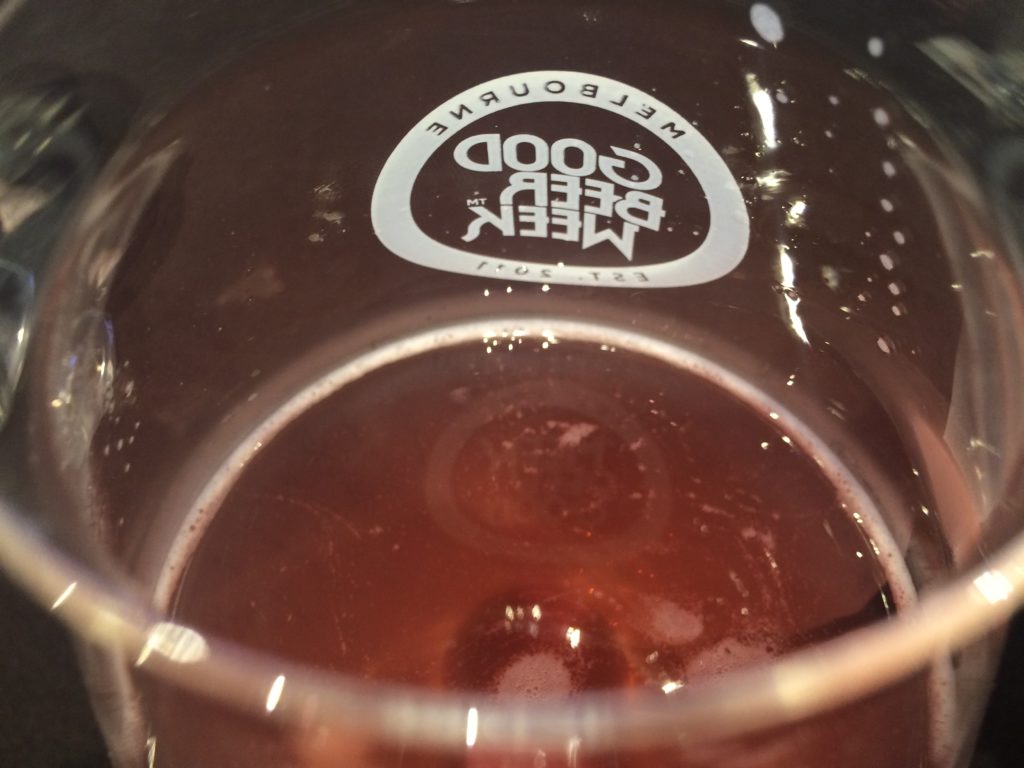 Being a foodie and a newbie beer drinker, I thought about it and then decided, why the hell not – let's do it. So we booked last minute tickets for the showcase and met up that evening for a few hours of tasting local beers, trying yummy local foods, and chatting up bearded hipster craft brewers.
food in melbourne
If you've never been to Melbourne, you should definitely put it on your list. For one, it's a bustling city with everything you could possibly want. Two, there's an overwhelming number of wineries, breweries, coffee roasteries, and delectable restaurants in town.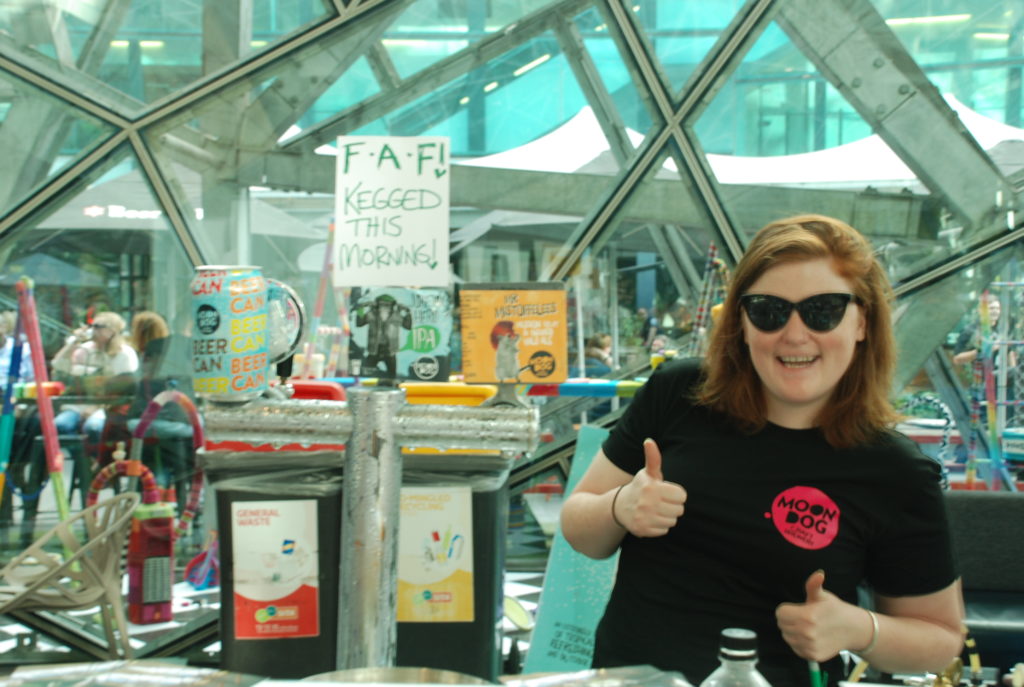 For a town at the edge of the world, Melbourne is surprisingly international, from the Italians that arrived back in the early 1900s to the Chinese immigrants, the Greeks, the Vietnamese, Koreans, Japanese, Thai, Indians, and more…
You could easily eat your way around the world while in Melbourne. I will definitely be touching on some of the phenomenal food I had in the city but I really want to share the beer festival because there was some very cool stuff happening there.
good beer week festival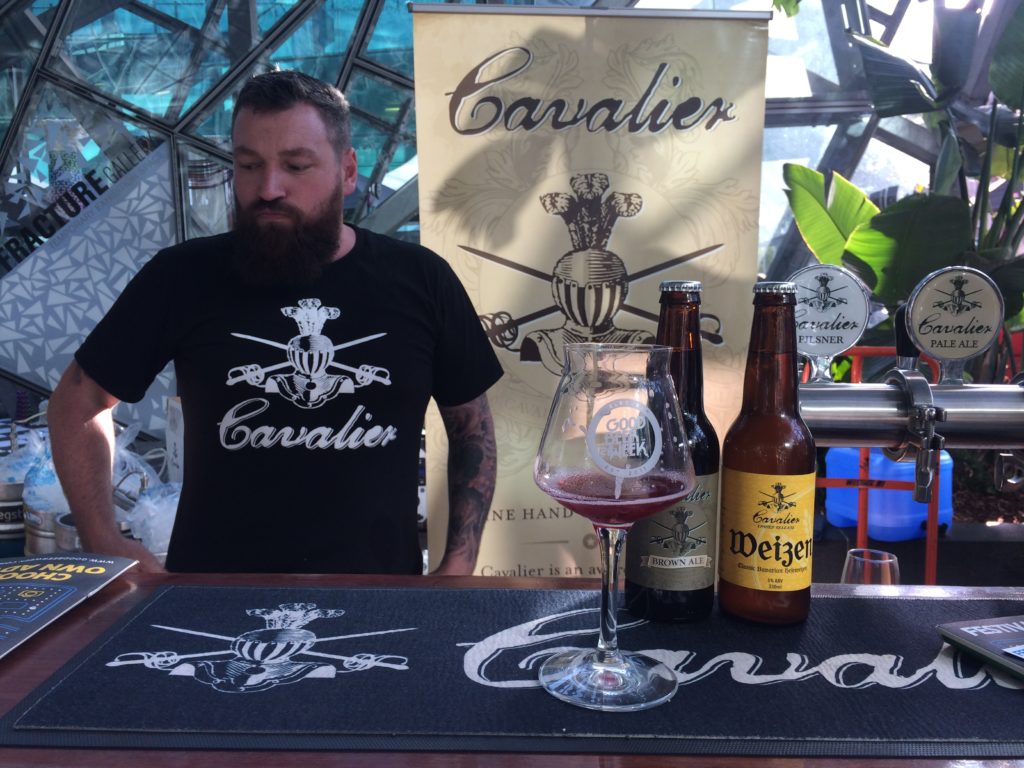 When I arrived, my scanned my ticket and then was given a program, tasting menu, and a really awesome glass. This was my tasting glass and throughout the night it was definitely filled with delicious beers from all sorts of craft brewers.
The first brewery I stopped at was just inside the main gates. Anya wasn't there so I didn't want to get too deep; I figured a taster here and maybe one more.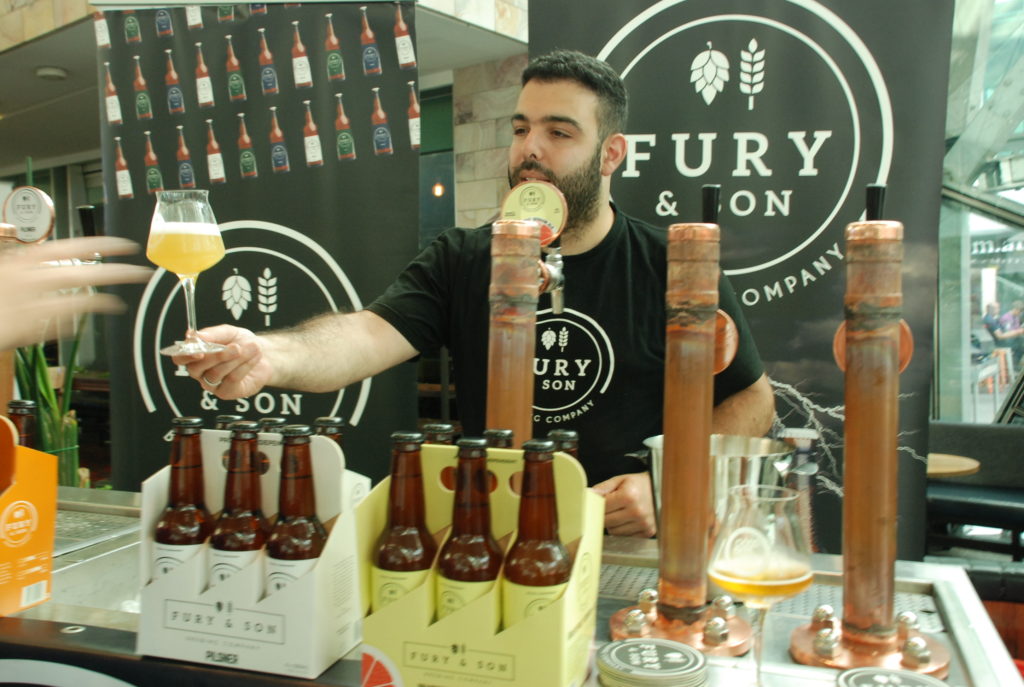 Here's the thing about beer festivals:
The organisers want you to give the tickets to the brewery staff. The brewery staff, on the other hand, want to share their beer and won't be taking any half empty kegs home – so it is in their best interests to give you as much beer as you want.
The tickets we bought gave us 20 beer tastings and a $10 voucher for food. I definitely had at least 20 tastings, but I still have nine tickets left. You do that math 😉
beer me, take one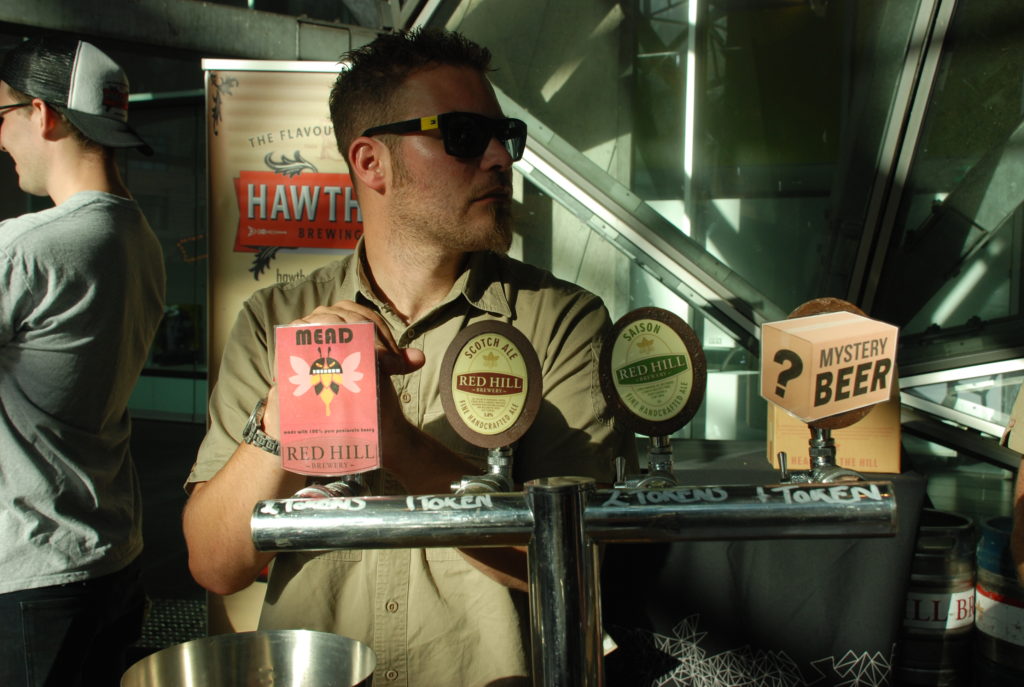 I started talking to the brewers at my first stop, Cavalier Brewing Company. My first taste was of their cherry sour, which was delicious. Then he poured me the pilsner. Also delicious. Cavalier Brewing is located west of Melbourne by about half an hour.
Anya arrived shortly after this and also sampled several of Cavaliers brews before she spotted a friend and took me over to his brewery, Red Hill, so we could taste their mead.
I'd never had mead before, but it wasn't like I expected. I guess I thought that mead would be sweet, since I know that mead is typically honey-based. This was savoury with just a hint of sweetness.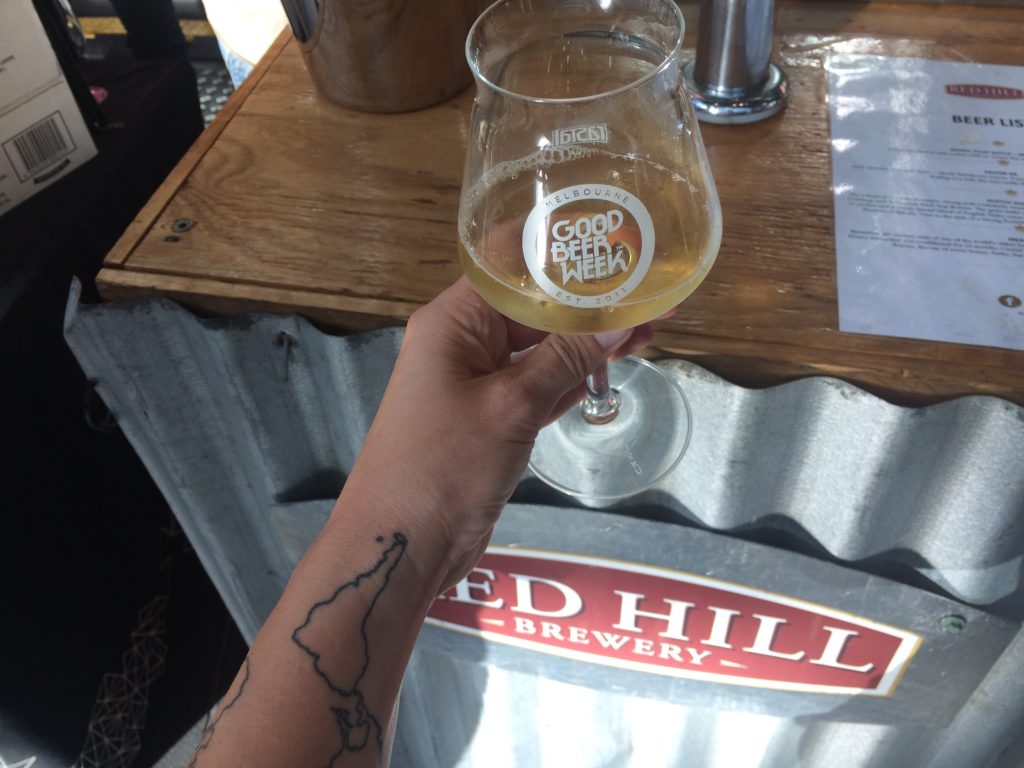 We slowly made our way down the hall of brewers. Both Anya and I prefer sweeter beers, and I've started loving the gose and sours, so if we saw one of those, we went for it. Throughout the night, I tasted a Mango Gose (Hop Nation Brewery), Down She Gose (Sailors Grave Brewing), a grapefruit session ale from Fury and Son, and few sours from a few different breweries.
I also tried things I thought I might never try again. A dark stout from 3 Ravens. Something from 7 Cent (sorry guys, it's not in my notes!). and random stouts/porters.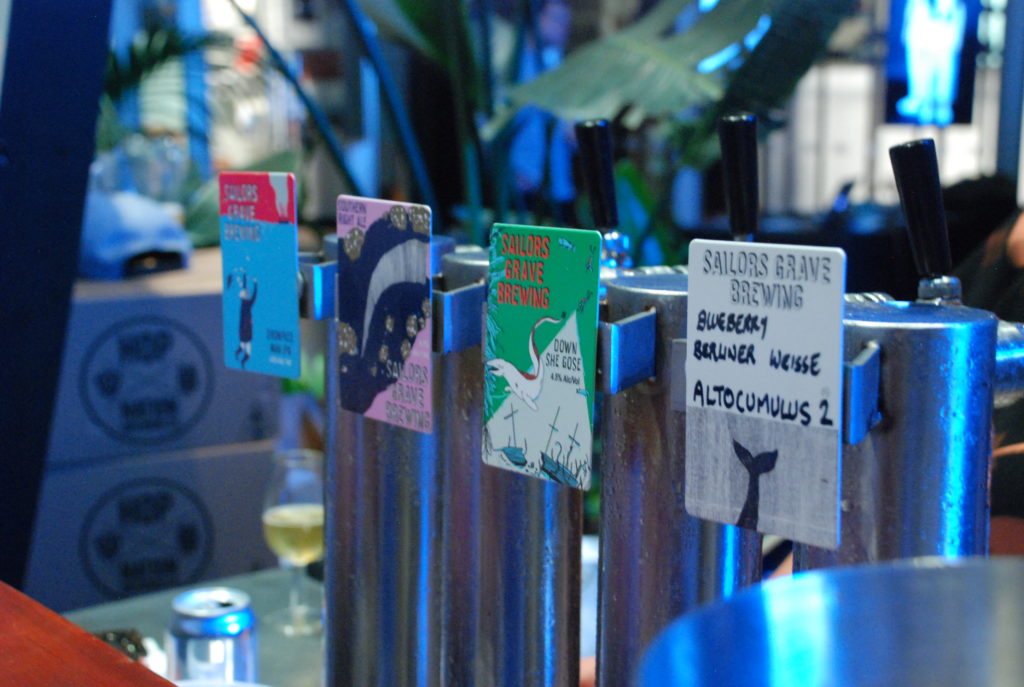 The craft/independent beer scene in Australia is still quite small. A lot of these brewers know each other and many were bouncing around trying their friends/competitors beers. At Moon Dog, the brewer asked us to pass a message along to the guys at 3 Ravens. By the time we made it over to them (a half an hour later!), she herself was there too.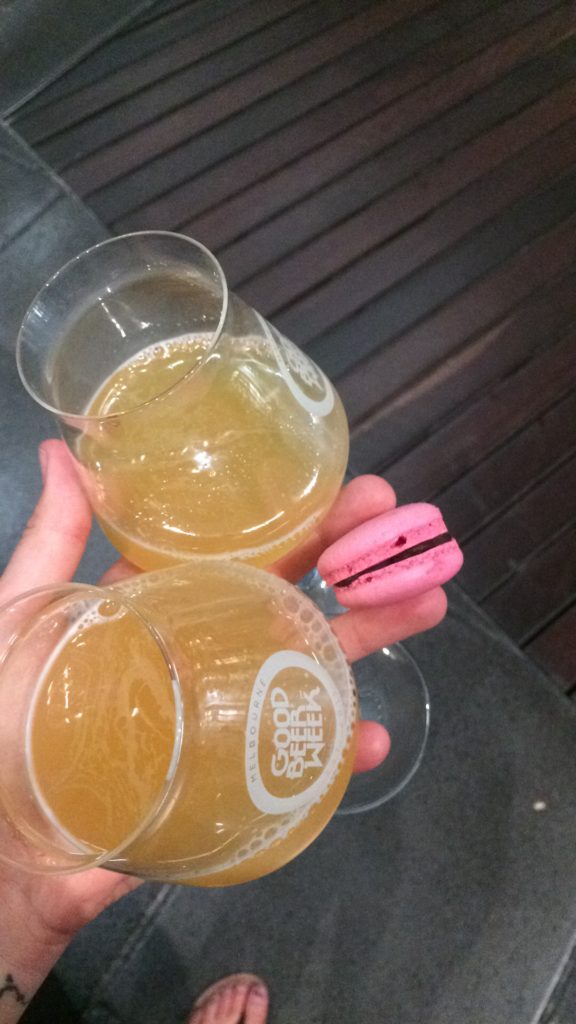 When we decided we were hungry, we used our $10 food vouchers to get some absolutely DELICIOUS Pambula oysters. I can't say anything bad about these since I had them in Pambula as well. This group had some different sauces, and I doused mine with a hot sauce as well as a pesto (I heart pesto).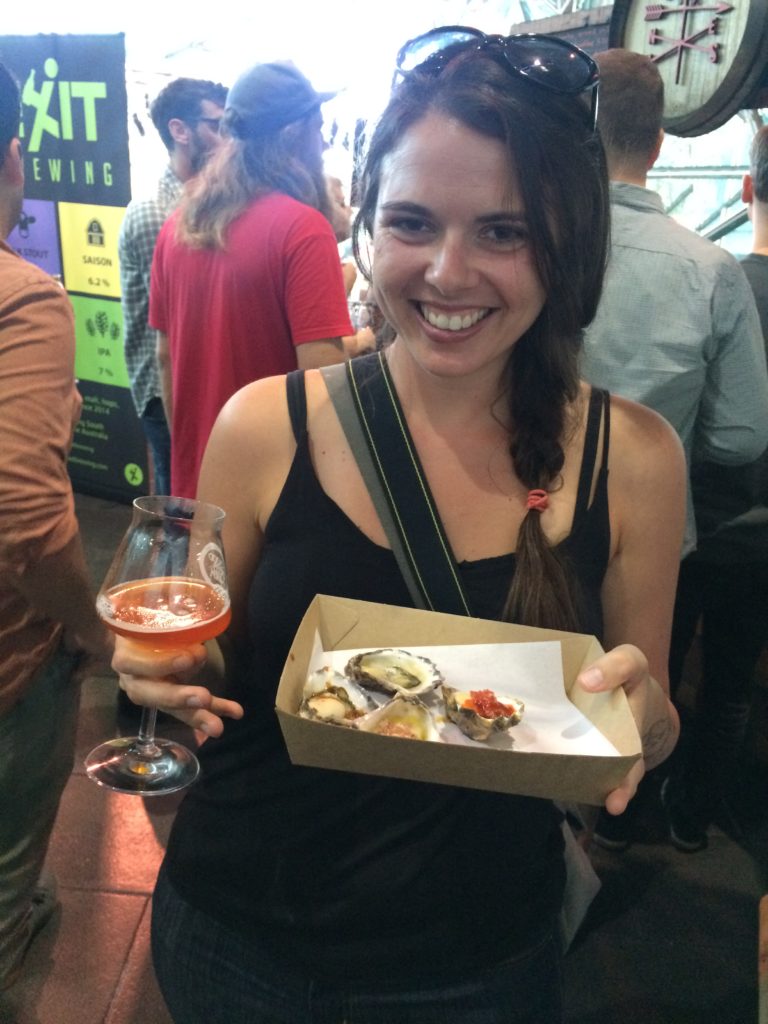 beer and food pairings at good beer week
One thing that our ticket also got us into was the lectures. These were various courses at the open auditorium located at the far end of the Fed Square atrium. They covered a range of topics, from the proper glassware for certain beers to the best foods to pair with different beers.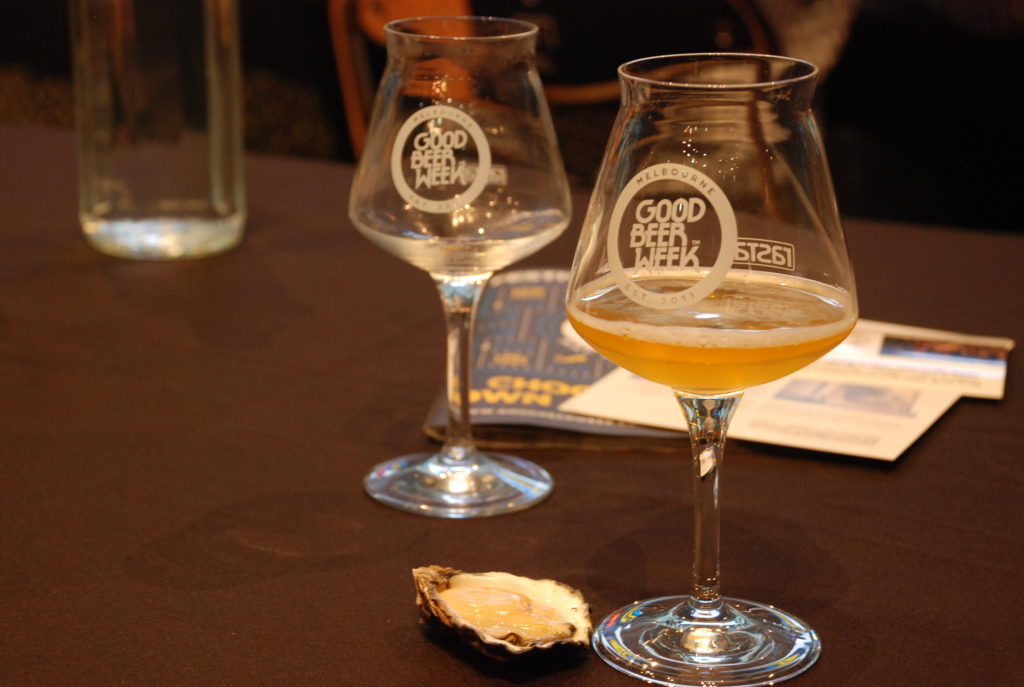 This one sounded like a good idea, so Anya and I headed over at 6:30. The course ran for about half and hour and we sampled two beers with two very different foods. The first beer we tasted was a blond ale barrelled in chardonnay barrels. The pairing with this were Pambula oysters, grown just eight hours from Melbourne on the Sapphire Coast.
(I particularly like oysters with champagne. If you have never had this, do yourself a favour. It tastes like the sea.)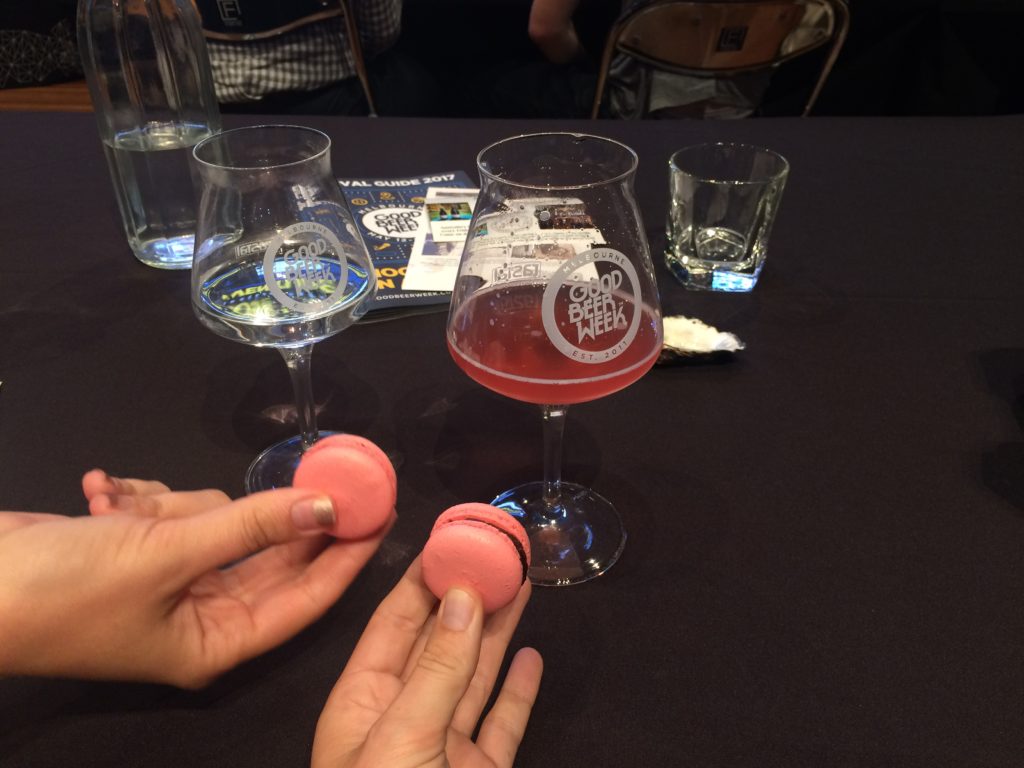 Our next tasting was something we had already tasted back in the crush of people above, but we both had really liked it.
The beers were a raspberry lambic and a dark coffee stout. The lecturers paired these with a raspberry chocolate macaron and a salted caramel macaron, respectively.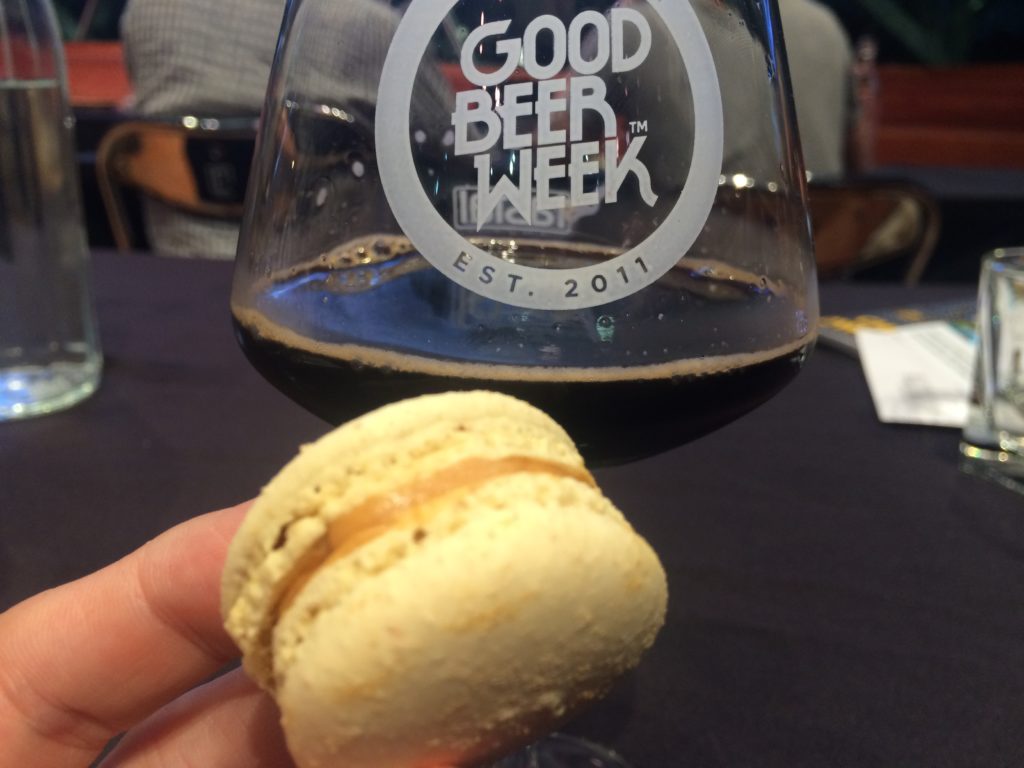 How does this work? You might want to know…
Pairing a creamy food with beer follows the contrasting principle: a creamy food (like a macaron) coats your mouth with cream (or in this case, frosting) and you want something to cut it back. It's not surprising that these combinations were phenomenal and we headed back to the vendor to get more.
beer me, take two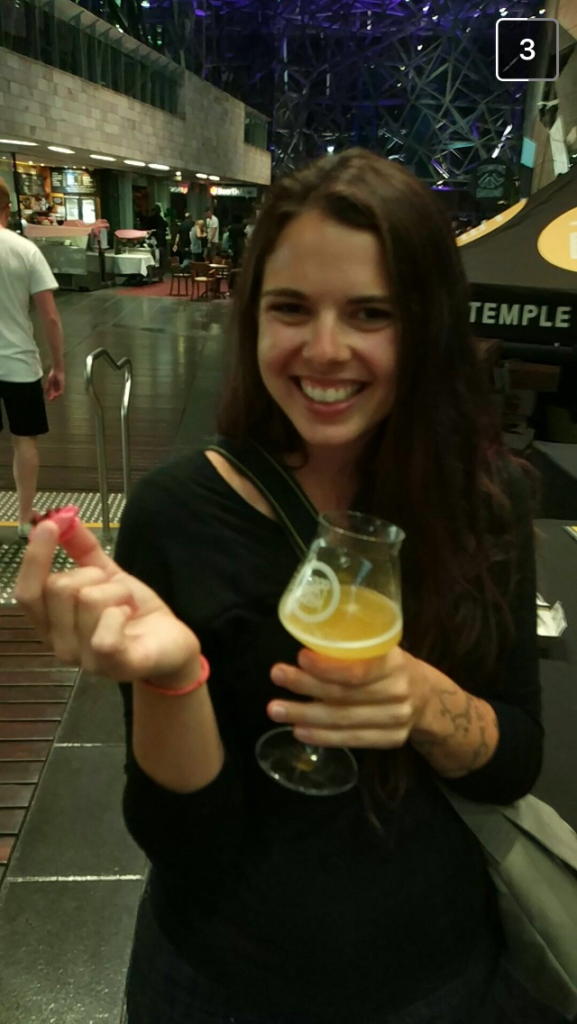 When Good Beer Week festival lecture was over, we headed back into the fray to finish the rounds of beer vendors we hadn't gotten to yet. It was getting close to the time when they would close up, and a lot of people were leaving. We snagged a few more tastings from people on the way out and said goodbye to a few of the brewers we had talked with.
**
This event was a two night festival (they call it the Gala Showcase) in March, but the real fun happens in May. Good Beer Week is a weeklong festival with hundreds of brewers, food vendors, music, and more. If you are in Melbourne in May, make sure you check it out!
Like this post? Pin it for your Good Beer Week festival adventure! >>>>